2020 International Workshop on Design Automation (IWoDA 2020) will be held in Madrid,Spain on Oct. 16-18, 2020.
IWoDA 2020 aims to bring together leading academic scientists, researchers and research scholars to exchange and share their experiences and research results in the field of Design Automation.
With the theme "Design Automation", IWoDA 2020 aspires to keeping up with advances and changes to a consistently morphing field. Leading researchers and industry experts from around the globe will be presenting the latest studies through papers and oral presentations.
We look forward to meeting you!
IWoDA 2020 is organized by HKSRA.
Prospective authors are welcome to submit your research paper to IWoDA through the ONLINE SUBMISSION SYSTEM. If you are a new user, you need to sign up firstly, for presenter, please submit the abstract via this system as well.
Please Download the Full paper template here: PAPER TEMPLATE

Abstract Submission (Presenters): the submitted abstract should contain a sufficient summary of the paper and outline of goals, results and conclusion, including conveying sufficient understanding when read in isolation from the paper. ABSTRACT TEMPLATE
Publication
---
All accepted papers will be published in the digital conference proceedings which will send to be indexed by all major citation databases such as Ei Compendex, Scopus, Google Scholar, Cambridge Scientific Abstracts (CSA), Inspec, SCImago Journal & Country Rank (SJR), EBSCO, CrossRef, Thomson Reuters (WoS), etc.

A selection of papers will be recommended to be published in journals.
Join as Reviewer
---
We sincerely welcome professors, associate professors, teachers and other experts to join us as a reviewer. We sincerely welcome you to send email to [email protected] for further information. Your request will be processed in 5 working days. Sincerely welcome you to join us.
Oral Presentation Guideline
---
15 mins(including 2-3 mins Q&A)
The main points to pay attention to in delivery are the quality of your voice, your rapport with the audience, use of notes and use of visual aids. Voice quality involves attention to volume, speed and fluency, clarity and pronunciation. The quality of your voice in a presentation will improve dramatically if you are able to practise beforehand in a room similar to the one you will be presenting in.
Rapport with the audience involves attention to eye contact, sensitivity to how the audience is responding to your talk and what you look like from the point of view of the audience. These can be improved by practising in front of one or two friends or video-taping your rehearsal.
Venue
---
Poster Presentation Guideline
Poster Size: A0
Posters are a key component of communicating your science and an important element in a successful scientific career. Posters, while delivering the same high-quality science, offer a different medium from either oral presentations or published papers, and should be treated accordingly. Posters should be considered a snapshot of your work intended to engage colleagues in a dialogue about the work, or, if you are not present, to be a summary that will encourage the reader to want to learn more.
The poster is usually a mixture of a brief text mixed with tables, graphs, pictures, and other presentation formats. At a conference, the researcher stands by the poster display while other participants can come and view the presentation and interact with the author.
Key Dates
Full Submission: Dec. 28, 2019
Abstract Submission: Dec. 5, 2019
Author Notification: Within 4 weeks
Final Version: Jan. 28, 2020
Registration: Jan. 28, 2020
Main Conference: Oct. 16-18, 2020
Program
Oct. 16, 2020: Registration
Oct. 17, 2020: Keynote Session+Parallel Sessions
Oct. 18, 2020: Parallel Sessions+Social Networking Event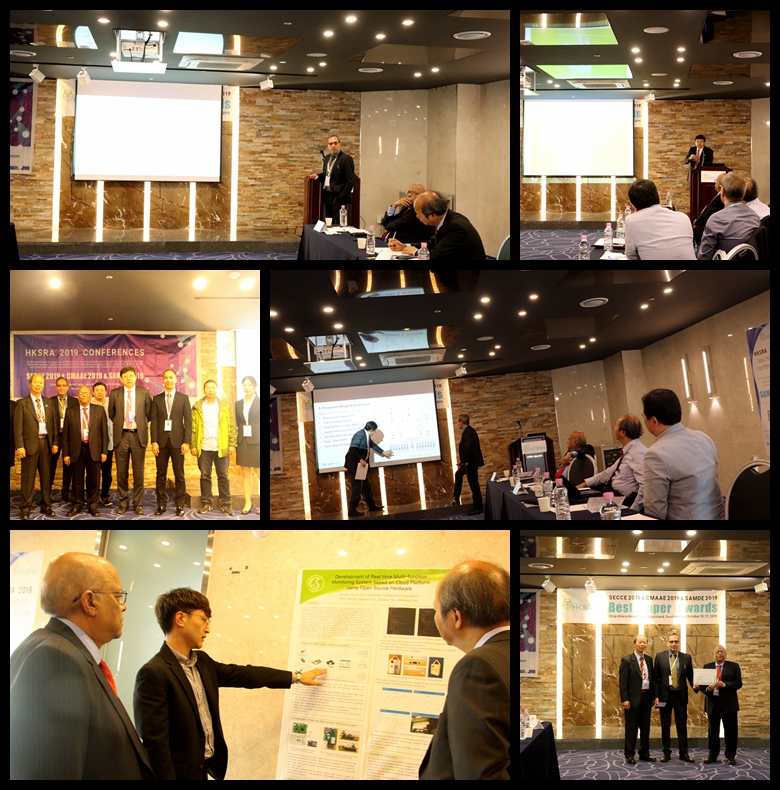 The 1st IWoDA has been held at The Utop Ubless Hotel Jeju, in Korea on Oct. 15-17, 2019.