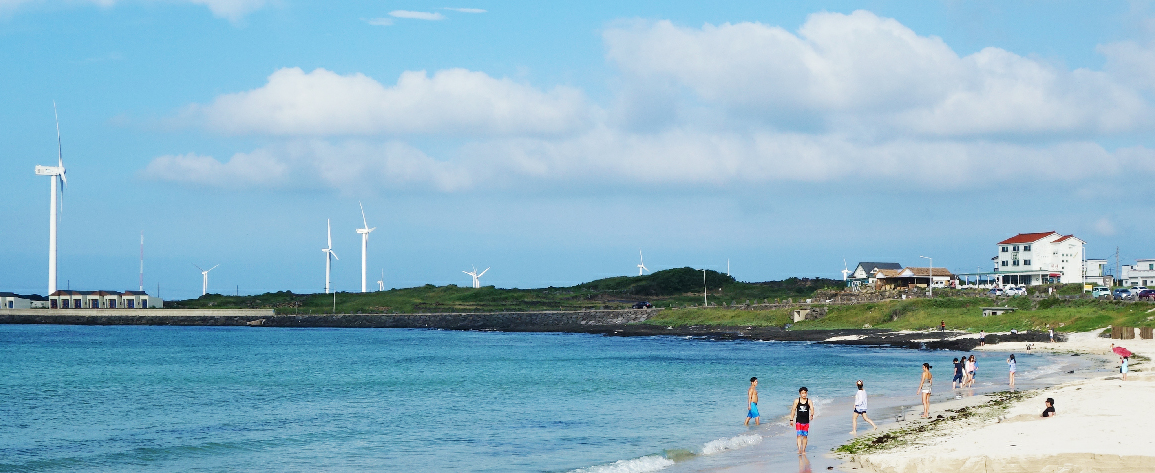 As Jejudo Island is located to the east of Eurasia, its continental and oceanic climates are clearly distinguishable depending on the weather. In the winter, the northwest monsoon can result in severe temperature differences, while high temperatures and humidity of the North Pacific air mass in the summer leads to intense rain storms. The yearly average temperature for the Seogwipo region is 16.2℃, while it is 15.5℃ for Jeju-si and the alpine regions, the smallest annual range in the country. Furthermore, the presence of Hallasan Mountain means that Seogwipo-si is 0.5∼1.5℃ cooler than Jeju-si in the summer and warmer than Jeju-si in the winter.
Temperature
Average temperatures in Jeju vary drastically. Considering humidity, temperatures feel nice most of the year, excluding some cold weeks in the winter, with a chance of rain or snow throughout most of the year. The area is less temperate than some — in the 34th percentile for pleasant weather — compared to tourist destinations worldwide. Weeks with ideal weather are listed above. If you're looking for the very warmest time to visit Jeju, the hottest months are August, July, and then September. See average monthly temperatures below. The warmest time of year is generally early August where highs are regularly around 87.9°F (31.1°C) with temperatures rarely dropping below 77.9°F (25.5°C) at night.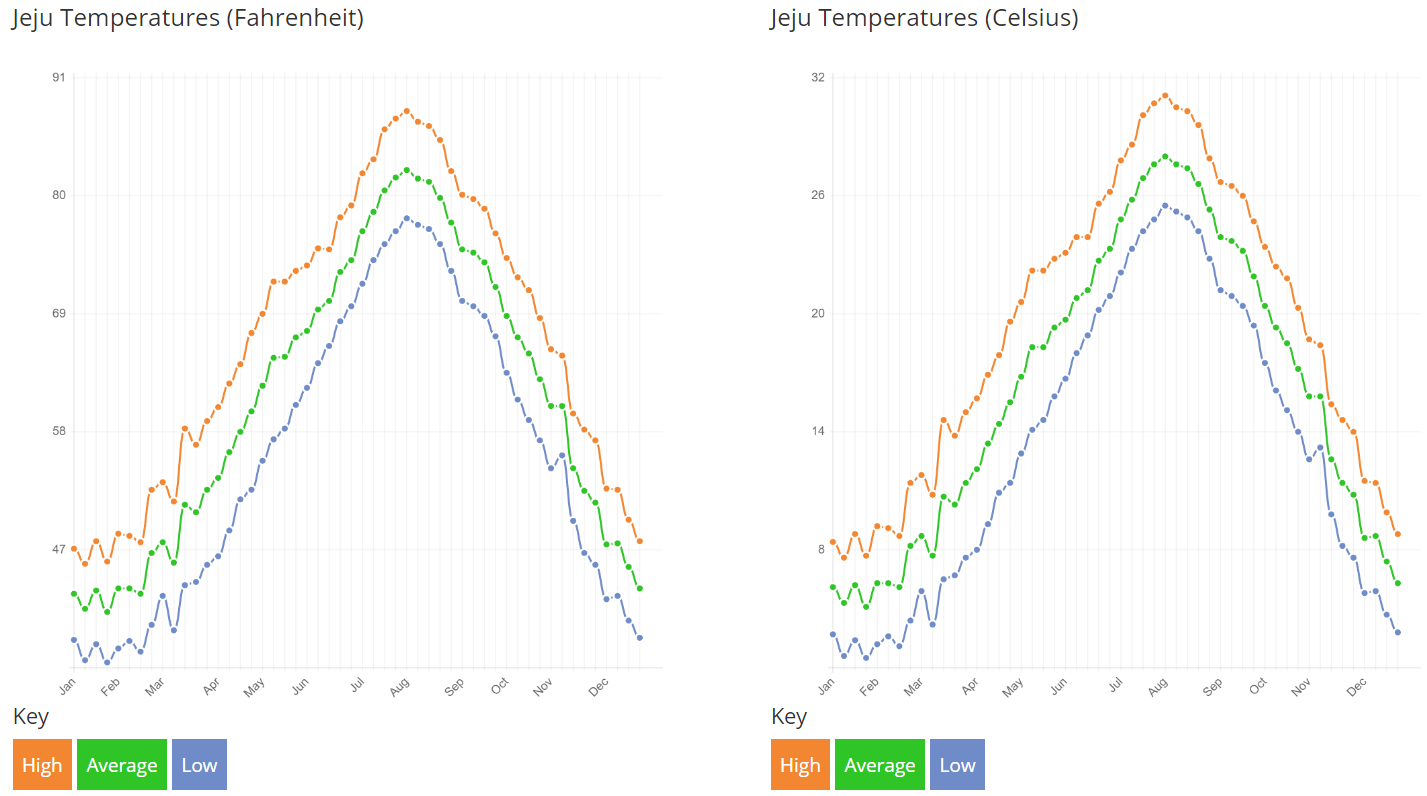 Precipitation (Rain or Snow)
If dry weather is what you're after, the months with the lowest chance of significant precipitation in Jeju are October, January, and then May. Note that we define "significant precipitation" as .1 inches or more in this section. The lowest chance of rain or snow occurs around mid October. For example, on the week of October 15th there are no days of precipitation on average. By contrast, it's most likely to rain or snow in late June with an average of 3 days of significant precipitation the week of June 25th.

When can you find snow in Jeju? Weather stations report a bit of annual snow likely to be deepest around February, especially close to early to mid February. The best time to ski (if at all) in Jeju is often around around February 12th when fresh powder is deepest. Please note that a value of 0 for snow in the graph below may either mean there was no snow, or that snow is unreported.
Humidity and Wind
Jeju has some very humid months, with other comfortably humid months. The least humid month is March (51.1% relative humidity), and the most humid month is June (72.9%).

Wind in Jeju is usually calm. The windiest month is December, followed by January and March. December's average wind speed of around 8.5 knots (9.8 MPH or 15.8 KPH) is considered "a gentle breeze." Maximum sustained winds (the highest speed for the day lasting more than a few moments) are at their highest in late December where average top sustained speeds reach 12.8 knots, which is considered a moderate breeze.